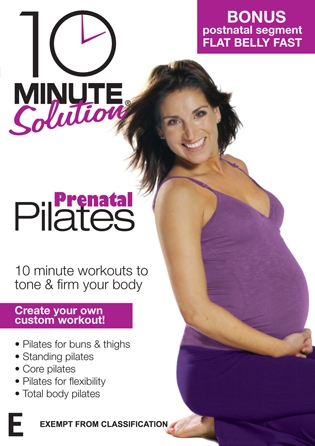 Rent or Buy on DVD
10 Minute Solution: Prenatal Pilates
No time to exercise? We have the solution for you – the 10 Minute Solution! Everyone can find at least ten minutes in their day and we've developed 5 dynamic workouts that are just 10 minutes each. The workouts were designed to help you stay fit and healthy throughout your pregnancy. These compact workouts fit into even the busiest of schedules. Split them into 5
separate workouts or do them all together for one amazing, prenatal pilates workout!
Postnatal bonus workout: flat belly fast: As a special bonus to use after your pregnancy, this core-focused segment created by instructor Suzanne Bowen zeros in on the deepest abdominal muscles with a singular goal: to flatten your belly fast. A set of 1-2 kilo dumbbells and 1-2 pillows are recommended for this workout.
10 Minute Solution: Prenatal Pilates
Lizbeth Garcia
Andrea Ambandos
53
STZ1246
© 2007 Anchor Bay Entertainment. All Rights Reserved.