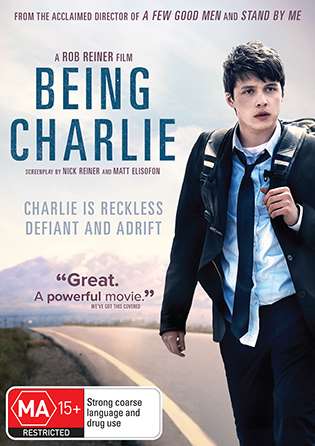 Rent or Buy on Digital
Being Charlie
From Academy Award® Nominated Director Rob Reiner* (Stand By Me, A Few Good Men), BEING CHARLIE is the story of Charlie Mills, who has just turned 18 and is running away from rehab…again. Returning home, he is shocked to learn that his actor-turned-politician father has staged an intervention, with the goal of making Charlie address, and hopefully conquer, his issues out of the media spotlight.
Reluctantly, Charlie enters a new adult facility where he meets a kindred spirit, Eva, and as their romance blossoms it becomes an antidote to his strained family relationships. Honest, relatable and ultimately uplifting, Being Charlie is the story of a young man learning to take control of his life by making mistakes, taking chances, breaking rules and listening to his heart.
Nick Robinson, Cary Elwes, Common, Devon Bostick, Morgan Saylor
Rob Reiner
97
DEF2670
© 2016 Adirondack Entertainment. All Rights Reserved.