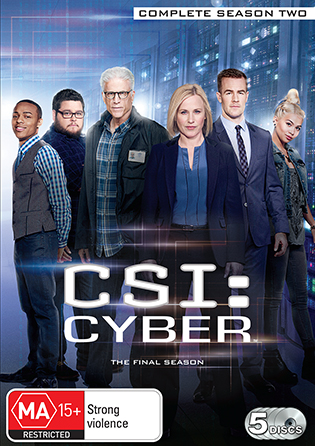 Rent or Buy on DVD & Digital
CSI: Cyber Season 2
In a world where everything is digitally connected, we're all potential victims. Yet technology is on our side, thanks to the FBI's Cyber Crime Division. As a victim of hacking herself, Special Agent in Charge Avery Ryan (Academy Award® winner* and Emmy® Award winner** Patricia Arquette) uses her knowledge of behavioural psychology to understand the all-too-human personalities behind the virtual menaces. She's backed by the unstoppable crew in her Cyber Threat Operations Center.
As a battle-tested marine, Special Agent Elijah Mundo (James Van Der Beek) is prepared for real-world action, while analyst Daniel Krumitz (Charley Koontz) can crack any device. Reformed black-hat hackers Brody Nelson (Shad Moss) and Raven Ramirez (Hayley Kiyoko) seize the chance to use their skills for justice. Veteran Crime Scene Investigator D.B. Russell (two-time Emmy® Award winner† Ted Danson) joins the unit, applying his experience in traditional forensics to cutting-edge threats.
Together, this ultra-skilled team is ready to take on the evolving tactics of the next generation of crime. From Executive Producer Jerry Bruckheimer, don't miss a minute of the action in the 18 electrifying Season 2 episodes.
Patricia Arquette, Ted Danson, James Van Der Beek, Charley Koontz, Shad Moss, Hayley Kiyoko
751
DEF2660
© 2016 CBS Broadcasting Inc. and Content Partners Cyber, LP. All Rights Reserved.