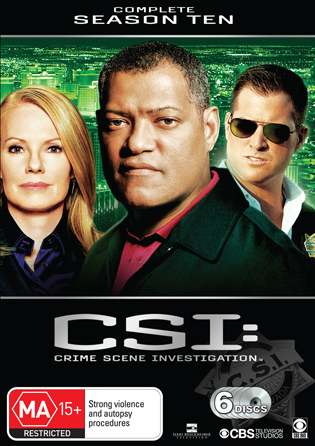 Rent or Buy on DVD
CSI: Season 10
Complete Season 10 Six Disc Set with all 23 episodes plus two bonus crossovers. Dr. Ray Langston (Laurence Fishburne) uncovers clues in a conspiracy so vast, it takes him to New York. This segment of the CSI Trilogy crossover event is just one reason to savour this superb collection, which features new episodes guest-starring Jorja Fox as Sara Sidle. In this landmark tenth season the legendary forensics unit proves once again that there's no shortage of sin in Sin City.
Laurence Fishburne, Marg Helgenberger, Jorja Fox, George Eads, Eric Szmanda, Paul Guilfoyle, Robert David Hall, Wallace Langham
Various
1004
STZ1451
© 2000-2011 CBS Broadcasting INC. and Entertainment AB Funding LLC. All Rights Reserved.