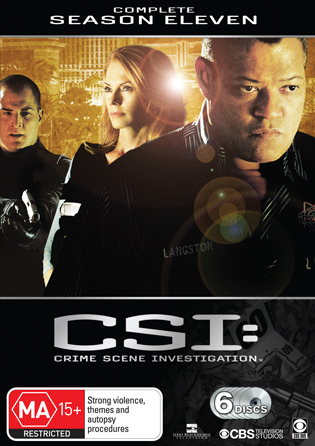 Rent or Buy on DVD
CSI: Season 11
All 22 episodes plus special features. CSI: Crime Scene Investigation Season 11 kicks off with Raymond Langston (Fishburne) fighting for his life after being stabbed by serial killer and nemesis, Nate Haskell. Meanwhile the CSI team contend with sharks in Vegas swimming pools, video game murders, deadly car bombings and a werewolf convention linked to a murder investigation. Season 11 comes to a head when Langston finally comes face to face with Haskell. After several years of pursuit and countless murder victims will Langston finally get his man and even if he does, will he ever be the same again?
Laurence Fishburne, Marg Helgenberger. Guest stars include: Justin Bieber, Dita Von Teese, Elliott Gould
Various
924
STZ1570
© 2000-2012 CBS Broadcasting Inc. and Entertainment AB Funding LLC. All Rights Reserved.