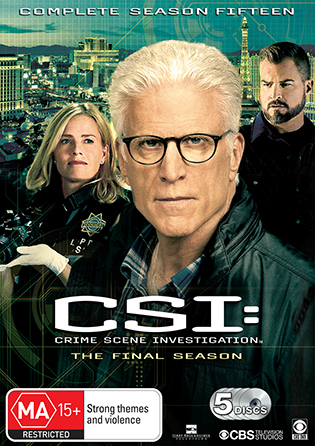 Rent or Buy on DVD
CSI: Season 15
CSI: Crime Scene Investigation® returns to the scene of the crime for its fifteenth and final season. From a lethal chemistry classroom to a fatal medical marijuana clinic to a deadly memorabilia convention, the evidence leads to Sin City's most twisted corners. Whatever the case, lead investigator D.B. Russell knows he can rely on the brilliance of blood-work expert Julie Finlay and veteran investigators Nick Stokes, Sara Sidle and Greg Sanders. Yet the final challenge is darkest for this elite team of experts, when a serial killer stalks Las Vegas and his traps threaten to ensnare one of CSI's own. The pulse-pounding suspense never lets up in the 18 gripping episodes of this 5-disc set that bring the breakthrough series to an edge-of-your-seat finale.
Ted Danson, Elisabeth Shue, George Eads, Paul Guilfoyle, Jorja Fox, Eric Szmanda, Robert David Hall, David Berman, Wallace Langham
Various
880
DEF2599
© 2000 - 2015 CBS Broadcasting Inc. and Daltrey Funding LP. All Rights Reserved.