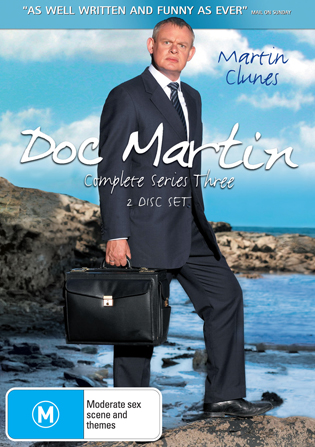 Rent or Buy on DVD
Doc Martin Series 3
Martin Clunes returns as the socially-challenged doctor in the award-winning comedy series. It's not easy being the village GP in Portwenn as once again, Dr Martin Ellingham is the centre of calamity, drama and lingering gossip. It seems the grumpiness is acute and chronic. The bad mood is no longer in remission. All the symptoms are there, the trucelence, the tactlessness, the caustic take on everyone and everything. Doc Martin series 3 follows the ongoing accidents, emergencies and comic mishaps in Portwenn as the good doctor bumbles through life, all the while trying to pursue his burgeoning but seemingly ill-fated romance with headmistress, Louisa Glasson.
Martin Clunes, Caroline Catz, Joe Absolom, Stephanie Cole, Ian McNeice
Ben Bolt
320
STZ1097
© Buffalo Pictures Ltd 2007. All Rights Reserved.