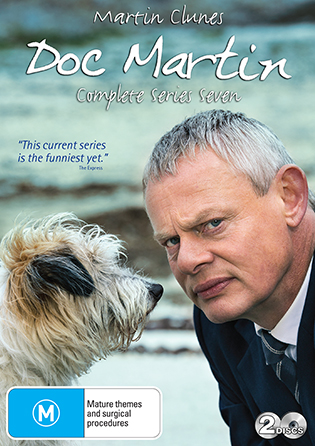 Rent or Buy on DVD & Digital
Doc Martin Series 7
Martin Clunes (Men Behaving Badly) returns as Dr. Martin Ellingham in the seventh series of this smash-hit ABC TV comedy.
In eight all new episodes, Doc Martin's bad manners and unusual ways continue to cause tension among the locals in the picturesque Cornish village of Portwenn. In the wake of their tumultuous time last series, Martin tries to fix his marriage after Louisa decides she needs some time away, Al Large is trying to set up and run his new business, Bert Large tries his hand at making whisky, Aunt Ruth suffers from a health scare, and PC Penhale is put in charge of his very own police issue Taser.
There are many questions that need to be answered for all our favourite characters old and new, and Martin and Louisa are not the only ones whose future hangs in the balance.
Martin Clunes, Caroline Catz, Ian McNiece, Eileen Atkins
Nigel Cole, Charles Palmer, Ben Gregor
366
DEF2585
© Buffalo Pictures Ltd 2015. All Rights Reserved.