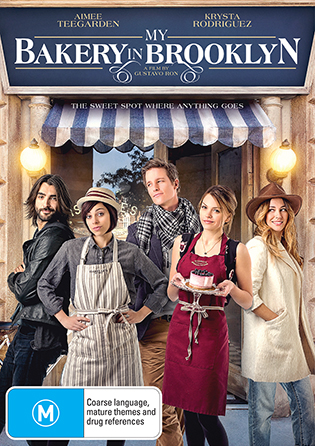 Rent or Buy on Digital
My Bakery in Brooklyn
Sometimes life isn't made to order. Cousins, Vivien and Chloe, have been inseparable ever since they were children. That is, until their lives are turned upside-down by the sudden passing of their Aunt Isabelle, and they inherit her bakery. Vivien, who has postponed her dream trip to Europe to help run the shop, wants to keep things traditional. Chloe, a chef's assistant for a popular daytime cooking show, feels they should put a modern spin on things. Now the gloves are off!
But when the bank reveals that the bakery is in danger of foreclosure, the girls must put the baking mitts down and work together to preserve their family's legacy. Starring Aimee Teegarden (TVs Friday Night Lights) and Krysta Rodriguez (TVs Smash), My Bakery In Brooklyn is a delicious, feel-good romantic comedy treat you'll want to enjoy again and again.
Aimee Teegarden, Krysta Rodriguez, Ward Horton, Griffin Newman
Gustavo Ron
100
DEF2688
© 2016 El Capitan Pictures sl, La Canica Films slu, Capinica AIE, New Bakery Productions ltd.