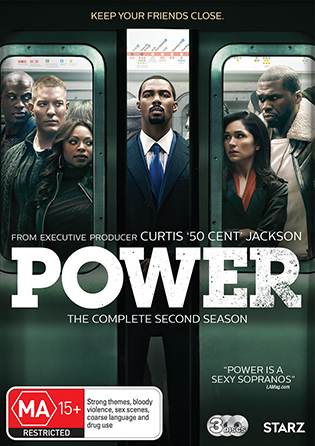 Rent or Buy on DVD
Power The Complete Second Season
From the creative imagination of Executive Producer Curtis "50 Cent" Jackson and show creator Courtney Kemp Agboh ("The Good Wife") comes the sexy, authentic and gritty second season of "Power," a drama straddling the glamorous Manhattan lifestyles of the rich and infamous and the underworld of the international drug trade. Season 2 picks up with James "Ghost" St. Patrick doubling down on his drug business to save his nightclub and his dream of a legitimate future. But Ghost's work troubles pale in comparison to juggling his relationship with his wife, Tasha, and his first love Angela, who's also an Assistant US Attorney investigating his drug organisation. Facing further set-backs by his business partner Tommy who loves the drug game, and his former mentor, Kanan, fresh out of jail, and looking for revenge, Season 2 has Ghost in a race against himself… can he get out of the drug game alive before Angela discovers who he is?
Power The Complete Second Season
Omari Hardwick, Curtis "50 Cent" Jackson, Joseph Sikora
Various
636
DEF2590
©2015 Starz Entertainment LLC.