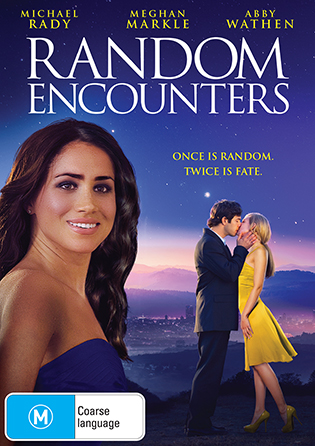 Rent or Buy on Digital
Random Encounters
In this sparkling romantic comedy, twenty-somethings Kevin and Laura are both struggling to make it in Hollywood, and in love. A chance encounter in a local coffee shop sees an instant attraction between them, and the sparks fly. With neither able to put the other out of their mind, they set out on parallel searches to find each other. The result is an hilarious series of awkward misunderstandings, embarrassing personal ads, bad timing and narrowly missed chances. Aided in their quests by well-meaning friends, including Laura's irrepressible roommate Mindy (Meghan Markle, star of TV's Suits), Kevin and Laura are determined to seal their own fate and ultimately…find true love.
Meghan Markle, Michael Rady, Abby Wathen, Sean Young, Joshua LeBar
Boris Undorf
93
DEF2761
© 2012 IP Random Film, LLC. All Rights Reserved.