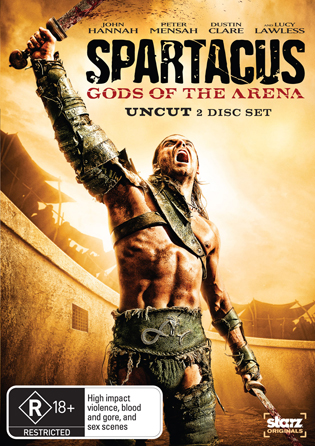 Rent or Buy on DVD & Blu-Ray
Spartacus Gods of the Arena
The House of Batiatus is on the rise, basking in the glow of its infamous champion Gannicus, whose skill with a sword is matched only by his thirst for wine and women. These are the times a young Batiatus has been waiting for. Poised to overthrow his father and take control, he'll freely betray anyone to ensure his gladiators are in the highest demand. And he'll have his loyal and calculating wife Lucretia by his side for every underhanded scheme, drawing on the brazen talents of her seductive friend Gaia when it counts. Together, they will stop at nothing to deceive the masses, seize power, and bleed Capua dry in this audacious prequel to "Spartacus: Blood and Sand."
Spartacus Gods of the Arena
John Hannah, Lucy Lawless, Dustin Clare, Peter Mensah
Rick Jacobson
335
STZ1482
© 2010 Starz Entertainment, LLC. All Rights Reserved.